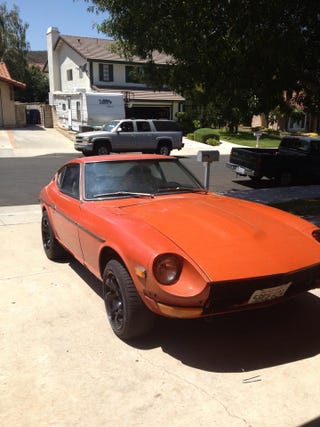 WE FOUND HER! However, this is a before picture. They didn't play nice with Betsy (nickname Chris gave her). They took the wheels, as we suspected, they also took the side vent badges behind the side rear window, both plates, the vin number, the shift knob, radiator, distributor and ignition wires.
The state of her after they found her in Acton, California sitting on her brakes in the dirt, was a sad sight.
Here is what she looked like when they brought her home:
Sorry that one is a little blurry
The bad news is that she's dented up, as you can see. The good news is she's back. The owner has replacement fenders, doors, and a hood. So we are going to repair her and eventually get her back the way she was. Thank you to everyone that helped! All of the messages and texts really gave us hope. He was about ready to go and buy a Beetle or a 510, but now the Z is back and even though it's not the same as before, we still have the car back. Again, much appreciation and thanks to everyone that helped look.